My Blog
Posts for tag: cosmetic dentistry
By Papich-Forsyth DDS & Associates
September 14, 2016
How your family dentists in Cuyahoga Falls, Ohio can whiten your smile
You've heard about teeth whitening treatments, but you're not sure if they are right for you. The truth is if you have yellowed, stained or
aging teeth and you want a brighter, whiter smile, a professional teeth whitening treatment is definitely right for you! Your family dentists at Papich-Forsyth DDS & Associates in Cuyahoga Falls, Ohio want to introduce you to the magic of professional teeth whitening.
Why should you choose a professional whitening treatment? That's a very good question considering there are many over-the-counter whitening products you can simply buy at the grocery store. The truth is, these products may not give you the profound whitening result you want, and the results may not last very long. Some over-the-counter whitening products can make your teeth sensitive.
Professional whitening treatments from your family dentists in Cuyahoga Falls, Ohio can whiten your teeth up to 8 shades whiter and the results can last an astounding 5 years! Whether your teeth are stained from smoking, coffee or aging, a professional dental whitening treatment can restore your dazzling white smile.
Your family dentists in Cuyahoga Falls, Ohio offer different options of teeth whitening treatments, each with its own advantages. Consider:
A speedy in-office teeth whitening treatment known as ZOOM whitening; your treatment will take about an hour, making it the perfect choice for your busy schedule.
A convenient take-home whitening kit containing professional strength whitening gel and custom trays; this method allows you to whiten and brighten your smile whenever you want, in the comfort and privacy of your home.
Your family dentists in Cuyahoga Falls, Ohio want you to know you should visit for a full exam before you have your teeth whitened. That's because there are timing issues with teeth whitening treatments. For example, if you have painful dental issues, you should have them treated before whitening your teeth. If you are thinking about crowns, veneers or cosmetic dental treatment, you should whiten first to your desired shade, and then match your cosmetic treatment to your newly-whitened smile. This creates a seamless, blended look.
You deserve a whitened, brightened smile because a great smile is your gift to the world. Your new, dazzling smile is just a phone call away. Call your family dentists at Papich-Forsyth DDS & Associates in Cuyahoga Falls, Ohio. Call today and look great tomorrow!
By Papich-Forsyth & Associates
May 18, 2016
Investing in a professional teeth whitening procedure can be like hitting a reset button on your smile. Many people express
dissatisfaction with how their teeth look and admit to feeling self-conscious in social and professional settings as a result. Cosmetic dentistry has made it possible to significantly whiten dull, stained teeth, and correct the effects of lifestyle habits that ultimately punish the teeth.
Smile Makeover in Stow, OH
The dentists at Papich-Forsyth DDS and Associates in Stow, OH offer both in-office and take-home professional teeth whitening services designed to remove the most common stains and discolorations from teeth. Wondering if professional whitening is right for you? While many stains and discolorations can be obvious, most teeth become progressively dull and lackluster over a period of time (usually several years), making it difficult to notice the changes at first. Everyone is susceptible to dental staining through food, trauma, certain medications, and one of the biggest culprits - smoking.
So does a tooth whitening procedure mean living on nothing but clear fluids and white foods until the end of time to avoid re-staining your beautiful newly white smile? Not necessarily. While it's always a good idea to avoid cigarettes and tobacco products for oral and general health reasons, as well as for the brightness of your smile, food and drink also play a role in tooth discoloration, and completely avoiding them all would be unrealistic. Avoiding some of the worst offenders immediately after the procedure - red wine, soda, coffee, and black teas - is a good rule of thumb to follow. Berries and condiments like soy sauce, mustard, and ketchup should also be used in moderation. In addition to diet, regular brushing and flossing, especially after meals, should always be at the top of the list.
Professional Teeth Whitening in Stow
For more information on the Zoom! Chairside Whitening System and the professional tooth whitening method that is best for you, contact a dentist at Papich-Forsyth DDS and Associates by calling (330) 688-0888 to schedule an appointment today.
By Aesthetic Image Dental
November 07, 2015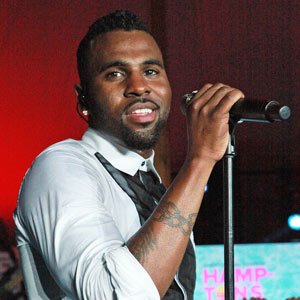 When the multi-platinum recording artist, songwriter and TV personality Jason Derulo was recently asked about his ideal woman, his answer covered a remarkably broad spectrum. "There's no specific thing," he said, "so I think it's unfair to say what my 'type' is." But it turns out that there is one thing the So You Think You Can Dance judge considers essential: A beautiful smile.
"I'm not into messy teeth," Derulo said. "If the grill has spaces and different colors, it's not my vibe."
As it turns out, he may be on to something: A number of surveys have indicated that a bright, healthy smile is often the first thing people notice when meeting someone new. Yet many are reluctant to open up that big grin because they aren't satisfied with the way their teeth look. If you're one of them, consider this: Modern cosmetic dentistry offers a variety of ways to improve your smile — and it may be easier and more affordable than you think.
For example, if your smile isn't as bright as you would like it to be, teeth whitening is an effective and economical way to lighten it up. If you opt for in-office treatments, you can expect a lightening effect of up to 10 shades in a single one-hour treatment! Or, you can achieve the same effect in a week or two with a take-home kit we can custom-make for you. Either way, you'll be safe and comfortable being treated under the supervision of a dental professional — and the results can be expected to last for up to two years, or perhaps more.
If your teeth have minor spacing irregularities, small chips or cracks, it may be possible to repair them in a single office visit via cosmetic bonding. In this process, a liquid composite resin is applied to the teeth and cured (hardened) with a special light. This high-tech material, which comes in colors to match your teeth, can be built up in layers and shaped with dental instruments to create a pleasing, natural effect.
If your smile needs more than just a touch-up, dental veneers may be the answer. These wafer-thin coverings, placed right on top of your natural teeth, can be made in a variety of shapes and colors — from a natural pearly luster to a brilliant "Hollywood white." Custom-made veneers typically involve the removal of a few millimeters of tooth enamel, making them a permanent — and irreversible — treatment. However, by making teeth look more even, closing up spaces and providing dazzling whiteness, veneers just might give you the smile you've always wanted.
If you would like more information about cosmetic dental treatments, please call our office to arrange a consultation. You can learn more in the Dear Doctor magazine article "Cosmetic Dentistry — A Time for Change."